Okay, I think we can all relate to it never being the right time for that certain book… and weeks, months, years later, it still isn't the right time.
This week's Top Ten Tuesday (created by The Broke and the Bookish) are the top ten books that have been on my shelf/TBR since before I started blogging. Okay, so maybe my headline is exaggerating a little, because I've barely been blogging a year, let alone since before time, but you get what I mean.
I'm going to be digging deep and baring my soul here. This is a painful tag. I can already feel the guilt. I'm going to spare myself some of that and make this a top-five list only. Not even sorry.
Breaking Dawn by Stephanie Meyer
Yeah, yeah, I know. I still haven't finished the Twilight series. In fact, I hadn't even started it until a few months ago. I'm a few years late to this party.
---
2. The Lord of the Rings: The Fellowship of the Ring
I've tried so hard guys. So hard, so many times. Between this and The Hobbit, I must have read the first twenty pages at least twelve times. I just can't do it. It's physically impossible for me. Shame.
---
3. The Thief by Megan Whalen Turner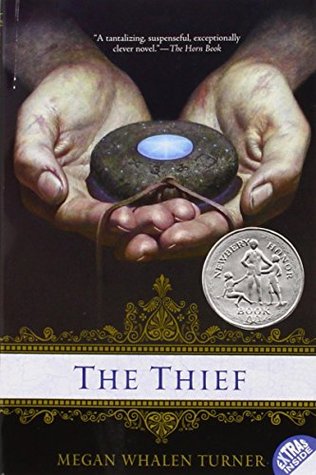 I'm pretty sure this is like the Holy Grail of young adult fantasy. Psch…not like I like YA or anything… or fantasy…psch.
*internal screaming*
---
4. Ender's Game by Orson Scott Card
Iconic sci-fi? You can bet I haven't read it!
To my eternal shame, I've actually seen the movie.
---
5. Pride and Prejudice by Jane Austen
Okay, I don't feel as bad about this one because it's a classic, but it still makes this list because I have a beautiful, beautiful edition of it sitting on my bookshelf, just waiting to be read.
---
Another book I really need to get around to is Jane Eyre (I literally have four copies). I've also never read anything by Colleen Hoover or Sarah Dessen.
I guess this is a good time to mention that The Force Awakens is the only Star Wars movie I've ever seen.
Well, that's all I'm willing to admit on this shameful TBR. Have you guys read these? What books have been on your shelf/TBR forever? Thank you for reading, and have a wonderful Tuesday.