Hello everyone! I recently reached 50 followers! It isn't a huge number but I just wanted you all to know that I'm grateful for each and every one of you. Thank you.
Okay, so in celebration I wanted to start a new tag that's all about my favorite genre: fantasy. Urban, high, low, historical, epic, paranormal, romantic, young adult-you name it, I love it.
All I ask is that you answer the six questions/scenarios I've compiled about your favorite fantasy books. Feel free to modify/change the questions slightly to fit your needs. Also, I completely understand that bloggers are busy people. Don't worry about doing all of the questions!
Also, you get a super-cool badge! Display it (or don't, it's up to you), and be the proud fantasy lover you are! You can copy and paste the picture or use the html.
---
The Questions/Scenarios
One thing that can make or break a fantasy is a magic system. What book's magic system would you implement in our own world if you could?
For this one I would pick Truthwitch by Susan Dennard just because the magic is so unique and diverse. I think our world would benefit a lot from the type of magic Dennard used in this book. Plus, Heart-threads and Threadsisters/brothers is probably the coolest concept everywhere. I want one. (my review)
---
2. We all have those books that we have to keep bottled up inside, because no one has read them. Imagine you are the supreme magic wizard leader of Earth: what fantasy book would you force everyone to read?
For me, that would be The Bird and the Sword by Amy Harmon. I haven't come across a lot of people who've read it, and it's one of my favorite fantasies of this year. Get on it guys!
---
3. Okay, I know I'm not the only one guilty of cover-buying. They're just so pretty. What
is your favorite fantasy cover (and do you love it enough to get it tattooed on you)?
This is without a doubt Magonia by Maria Devhana Headley. The book didn't have great reviews, and I didn't really love it either, but that cover. Birds! Sparkles! Feathers! Stars! Sunset! Could it get any better than this?
No, and if I had to, I would definitely permanently ink this on my body.
---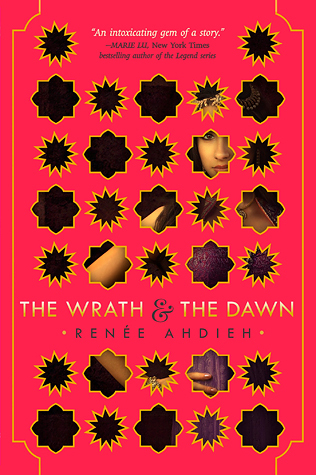 4. Perhaps the best part of fantasy are the swoon-worthy heroes (or heroines). What love interest would you kidnap and bring back to Earth (despite the havoc that may ensue)?
How can I pick just one book boyfriend? I think I have to give this one to my precious Khalid from The Wrath and the Dawn by Renee Adieh. That boy has a way with words that I just can't resist. Shazi is one lucky lady.
---
5. Imagine you are the High Witch/Wizard of every publishing agency, and you can
make authors work ten times faster. What debut fantasy's sequels would you poof into existence? The whole series would come out in a single day-choose wisely.
I can't wait for the sequel to The Fray Theory: Resonance by Nelou Keramati. I read this book as an ARC (my reveiw) and I'm already impatient for the sequel. Make sure you all buy a copy, it comes out August 31. This book is fascinating and has so much potential. I want to binge read it all.
Btw, this borders on science fiction, but I'll just classify it as an AU-type book. It kind of defies a genre.
---
6. For this last one, I was going to be cruel and ask what your favorite fantasy of all time is. I realize that this question is literally impossible to answer, so I've narrowed it down to your favorite fantasy from 2016. It can be a new release or an old one, as long as you read it for the first time this year.
How can I create a fantasy list without including something by the lovely Mrs. Maas? I think my favorite book by her this year will end up being Empire of Storms, but so far it's A Court of Mist and Fury. This book was much better than ACOMAF, and I'm so proud of the amazing author Sarah has grown into and still is becoming. I can't wait for everything she has in store.
Thank you so much for reading! Here are the people I'm tagging. Also, if I don't tag you, please feel 100% free to do the tag! Spread the word and your love of fantasy. The badge belongs to anyone who wants it.
That's it for now guys! Happy reading!
Check out my social media: