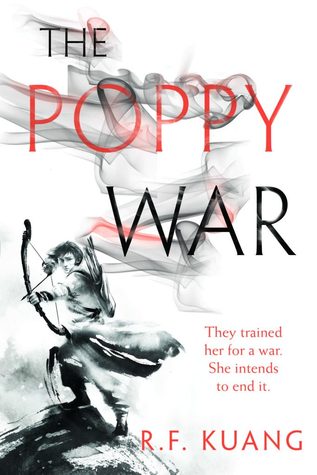 When Rin aced the Keju, the Empire-wide test to find the most talented youth to learn at the Academies, it was a shock to everyone: to the test officials, who couldn't believe a war orphan from Rooster Province could pass without cheating; to Rin's guardians, who believed they'd finally be able to marry her off and further their criminal enterprise; and to Rin herself, who realized she was finally free of the servitude and despair that had made up her daily existence. That she got into Sinegard, the most elite military school in Nikan, was even more surprising.

But surprises aren't always good.

Because being a dark-skinned peasant girl from the south is not an easy thing at Sinegard. Targeted from the outset by rival classmates for her color, poverty, and gender, Rin discovers she possesses a lethal, unearthly power—an aptitude for the nearly-mythical art of shamanism. Exploring the depths of her gift with the help of a seemingly insane teacher and psychoactive substances, Rin learns that gods long thought dead are very much alive—and that mastering control over those powers could mean more than just surviving school.

For while the Nikara Empire is at peace, the Federation of Mugen still lurks across a narrow sea. The militarily advanced Federation occupied Nikan for decades after the First Poppy War, and only barely lost the continent in the Second. And while most of the people are complacent to go about their lives, a few are aware that a Third Poppy War is just a spark away . . .

Rin's shamanic powers may be the only way to save her people. But as she finds out more about the god that has chosen her, the vengeful Phoenix, she fears that winning the war may cost her humanity . . . and that it may already be too late.
So I'm a little late on this one, and this book already has an abundance of great reviews, but here I am giving it a late, great review. The Poppy War was a contender for best fantasy novel on the Goodreads 2018 choice awards, and one of my all-time favorite (and hard to please) reviewers, Kahn the Grinch on Goodreads, gave this one 5 stars, so I figured it was definitely worth the read. I wasn't disappointed!
The beginning of this book was fantastic because I'm a sucker for school settings. The book starts with Rin, our main character, studying her ass off to be accepted into Sinegard, a top university in the country of Nikan. Sinegard is a military training school for the sons and daughters of powerful and rich men, of which Rin is very much not.  I did get somewhat of a Hogwarts vibe at first, but Kuang quickly shattered this with intensity and brutality far beyond that of Draco Malfoy. And unlike Harry, Rin wasn't chosen; she wasn't set apart by her birth–in fact, the very opposite. She actually had to work for what she wanted, which was a lot more satisfying than it being handed to her in the form of a lightning-shaped scar. Her drive and motivation set her up as an admirable and fiercely determined character.
The character development continues long after the school setting has been ripped away, and Rin and her classmates are forced to face the brutalities of war. We see depth of character and relationships being developed and shaped by the world and through shared experiences. We see characters who once seemed shallow and immature grow into real human beings with emotions and drive. I loved almost every single character in this book because there was no good or evil, just shades of gray and conflicting inner turmoil. The interactions between them were organic and enjoyable to read. There was an emphasis on loyalty and trust rather than insta-love. The characters range from quirky to cruel and everything in between.
Another fantastic aspect of this book was the world-building. It was interesting to see how Kuang used Asian influences to set up what could have been an alternate China. There were a complexity of politics, culture, and inner workings that were slowly built up until I was completely immersed in the world. The magic system, more aptly named shamanism, was deeply intertwined with the cultural aspect of the novel and was based on psychological and spiritual depth. I got some heavy Kung Fu Panda vibes with the smallest amount of Doctor Strange mixed in. I really enjoyed how Kuang used the essence of martial arts, meditation and balance, as a source of power. It was incredibly unique and made the book unpredictable because it's something that fantasy (at least fantasy that I've read) hasn't really explored.
As I mentioned in the trigger warning at the beginning of the post, Kuang does not shy away from the brutality of war. It is gory and awful, and definitely not for the faint of heart. The aftermath is described in especially sanguine detail. While this aspect of the novel wasn't enjoyable, it certainly added verisimilitude and a sense of purpose to the plot and the character's motivations.
I knocked the rating down to 4.5 stars because I thought the pacing was a bit slow. From the description, it sounds like most of the book would be about Rin at Sinegard. While this was a significant portion of the story, it wasn't as much as I would have liked it to be. The rest of the novel gets a bit repetitive when it comes to the war. I can fully appreciate how Kuang laid out strategy and dove into principles of war, but personally I didn't enjoy this as much as character interactions or the development of shamanism.
Thanks for reading my review! I'd highly recommend this to any fantasy lover looking for something a bit unique. It's refreshing to see Asian influences rather than European ones, so the book really stood out to me.