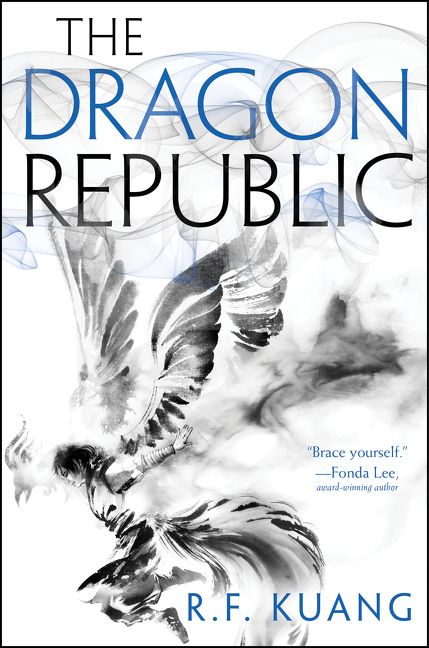 TW: rape, gore, war, drug addiction/abuse, genocide, racism
The searing follow-up to 2018's most celebrated fantasy debut – THE POPPY WAR.

In the aftermath of the Third Poppy War, shaman and warrior Rin is on the run: haunted by the atrocity she committed to end the war, addicted to opium, and hiding from the murderous commands of her vengeful god, the fiery Phoenix. Her only reason for living is to get revenge on the traitorous Empress who sold out Nikan to their enemies.

With no other options, Rin joins forces with the powerful Dragon Warlord, who has a plan to conquer Nikan, unseat the Empress, and create a new Republic. Rin throws herself into his war. After all, making war is all she knows how to do.

But the Empress is a more powerful foe than she appears, and the Dragon Warlord's motivations are not as democratic as they seem. The more Rin learns, the more she fears her love for Nikan will drive her away from every ally and lead her to rely more and more on the Phoenix's deadly power. Because there is nothing she won't sacrifice for her country and her vengeance.

The sequel to R.F. Kuang's acclaimed debut THE POPPY WAR, THE DRAGON REPUBLIC combines the history of 20th-century China with a gripping world of gods and monsters, to devastating effect. 
Read below for my spoiler-free review. (Disclaimer: I received this book from NetGalley in exchange for an honest review, quotations may not be present in the published book)
AHHHHHHHHH. THE ENDING. KUANG IS REALLY EVIL WHEN IT COMES TO THESE CLIFF HANGERS!!!!
So this book was really, really good. I will say that you had to have liked the first book to like this one, because there is a lot more of the same. If you can't stomach gore and don't have an interest in war strategies and politics, this book isn't for you.
The novel picks up a bit where the last one left off, with Rin picking up the pieces and facing the consequences of her actions at the end of The Poppy War. I have to say, I didn't enjoy the beginning of this book. I understood the dilemma that Run was facing, but I had zero sympathy for her. It was frustrating to see how she dealt with her guilt, and I couldn't understand why she was so angry all the time. Besides this, the plot took a while to really pick up. The first half or so of the book was filled with politics that I found less than interesting. Kuang makes up for this in the second half of the book, because I could hardly put it down. There are a number of twists and turns and gasp-worthy moments that left no question of Kuang's masterful writing skills. The action scenes are edge-of-your-seat, and the dialogue is also fun and engaging. It's unfortunate that you have to push through a little bit to get there, but I promise it's worth it.
My favorite part of this book was the development of character. Kuang didn't just focus on a couple main characters–we got insights for a lot of our favorites, but enemies as well. It was so interesting to see the motivations and insecurities of characters like Daji, Kitay, Nezha, Venka, the Cike, and of course, Rin. It progressed so naturally that I hadn't realized how subtly Kuang was making progress. There was nothing too obvious; I really liked how the little things added up to people that I felt that I knew. There are also some interesting developments in relationships (parabatai fans rejoice!!).
Kuang's writing is honest, brutal, raw, and sometimes a little funny. Politics, strategy, and religious philosophy ground the story, but shamanism balances that with something magical and exciting. There is no shying away from tough topics, but the characters respond to everything appropriately and in a relatable way. The world-building was expansive and has set up the next book to be something really epic. While there was a cliff-hanger, it still ended with a few resolutions that I was glad to see. I would highly recommend this for fans of Game of Thrones (there is a hardcore Arya moment that I actually screamed at) or alternate history.